Five works nominated for the Teosto Prize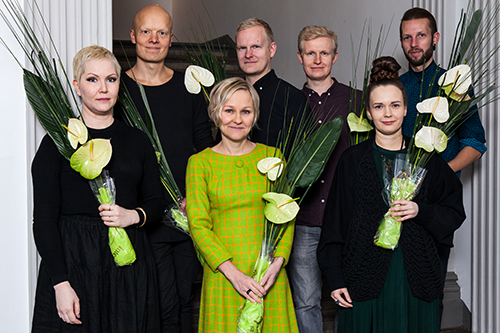 13.02.2018
From the left: Astrid Swan, Olavi Louhivuori, Lotta Wennäkoski, Joona Toivanen, Tapani Toivanen, Tero Hyväluoma, Meriheini Luoto.
This year, five works have been nominated for the Teosto Prize. Awarded since 2003, the Teosto Prize is one of the most noteworthy art prizes in the Nordic countries. If the prize is awarded for a single musical work or piece, the prize sum is EUR 25,000. If the prize is awarded for multiple works, the maximum prize sum is EUR 40,000.
All the nominated works and collections of works were published or premiered in 2017.
The Teosto Prize nominees and grounds for their selection (in alphabetical order according to the name of the work):
From The Bed And Beyond – Astrid Swan
Astrid Joutseno's compositions and lyrics for the album From The Bed And Beyond.
Swan's album has the ability to turn the private into something universal, and it rises above its dark subject matter by viewing it with a surprising, approachable light-heartedness, both in terms of composition and lyrics. The album is given its bright silver lining by melodies and arrangements that confidently draw from a large pool of popular music genres. A touching, delicate and strong work of art.
Metsänpeitto – Meriheini Luoto
Meriheini Luoto's compositions for the album Metsänpeitto.
Metsänpeitto expands our comprehension of the temporal dimensions of music and the violin's adaptability. Little by little, the album leads its listener into another, different kind of world. The music is at times threatening, and tender at others, like the forest. Luoto's innovative approach to tradition has resulted in a bold, and sometimes even intimidating, album that bows down to no one. The work of a composer with a strong voice of her own.
Reflection – Hyväluoma Group
Tero Hyväluoma's compositions for the album Reflection.
Strong melodies and improvisational expression take turns in a curious way, giving the impression that anything could happen. Hyväluoma's melodious hooks and luscious harmonies coupled with his expert choral successions offer a constant string of revelations. Although the compositions draw strongly from the traditions of jazz and popular music, layers of Finnish and Nordic folk music are also present. A brisk and bold crossover!
Uniin asti – Lotta Wennäkoski
Lotta Wennäkoski's composition for texts by Claes Andersson, Saila Susiluoto, Olli Heikkonen and Nils-Aslak Valkeapää in the work Uniin asti.
A playful, humoristic and downright fun piece that employs the full range of sound produced by a large orchestra and a choir. Wennäkoski's rich, lyrical touch is apparent. Uniin asti is a piece de resistance by a mature artist, giving recognition to the Finnish male choir tradition while boldly looking into its future.
XX – Joona Toivanen Trio
Joona Toivanen's, Olavi Louhivuori's and Tapani Toivanen's compositions and arrangements for the album XX.
XX is a bold, meditative whole built out of sparse elements, taking its listener into a completely different world. The lyrically minimalistic and rhythmically delicate trio allow their listeners plenty of space to be enchanted by the experience. Small droplets of sound swell into a babbling brook, which, after having flown for a while breaks down again, only to take on a different musical course.
The Teosto Prize is awarded to bold, original and innovative works
Music authors and publishers reward bold, original and innovative Finnish music annually with the Teosto Prize. This year, the prize is awarded for the 15th time.
The prize will be awarded to one to four musical works or pieces, and the maximum prize is EUR 40,000. If the prize is awarded for a sole musical work or piece, the prize is EUR 25,000. The works may represent any genre, but they must be produced after the previous award season.
The preliminary selection panel and jury
This year's nominees have been selected by a preliminary selection panel, comprising the Intendant of the Turku Philharmonic Orchestra Maati Rehor (panel chairman), musicians and music reporters Arttu Tolonen and Amanda Kauranne, the Pori Jazz Chief Artistic Officer Mikkomatti Aro, music reporters Wilhelm Kvist and Tuuli Saksala as well as musician Pekka Kuorikoski.
The winner(s) of the prize is selected out of the nominees by a jury, comprising MEP Miapetra Kumpula-Natri (jury chairman), CEO of Tavastia Juhani Merimaa and last year's Teosto Prize winning composer-writer Mikko Joensuu (Amen 1 & 2).
The winner of the Teosto Prize will be announced at an event held at the Helsinki Music Centre restaurant on 26 April.
Photo: AJ Savolainen.
More information:
Teosto communications
Susanna Perämaa
susanna.perama(at)teosto.fi
Jenni Pekkinen
jenni.pekkinen(at)teosto.fi