Teosto sustainability report 2022
Sustainable operations are at the core of Teosto's objectives. We manage copyright professionally, efficiently and with respect.
We are a non-profit organisation. Our basic task is to enable the professional making and use of music.
Sustainability at Teosto is reflected in how we ensure the fulfilment of copyright and the quality and efficiency of their management. Our efforts are seen in the whole of society through the promotion of Finnish creative music. Our operations are based on trust, and trust is built on sustainable operations.
Our goal is to ensure that Finland offers good conditions for working in the the creative industries and using music professionally. We manage the copyrights of music authors and publishers and promote Finnish creative music.
TEOSTO SUSTAINABILITY IN A NUTSHELL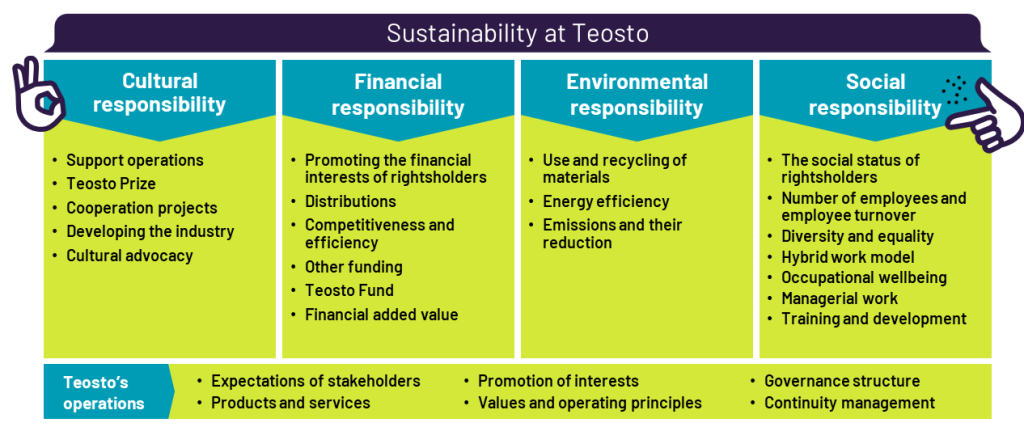 In our corporate social responsibility reporting, we strive to comply with the GRI (Global Reporting Initiative) framework, according to which we report particularly on the development of matters essential to Teosto. We regularly measure our progress in the core areas of our operations, and our aim is to improve our operations every year.
Teosto's key sustainability indicators are:
43
Teosto's total CES (Customer Effort Score)
67
million EUR. Teosto's distributions to rightholders (+26 %)
54,1 T
Greenhouse gas emissions from Teosto's operations (+1 %)
79,4
Quality of Work Life index. (+5 %)
In addition to the sustainability report, Teoston publishes an annual report every year, which includes key figures, financial statements and the transparency report required from collective management organisations.