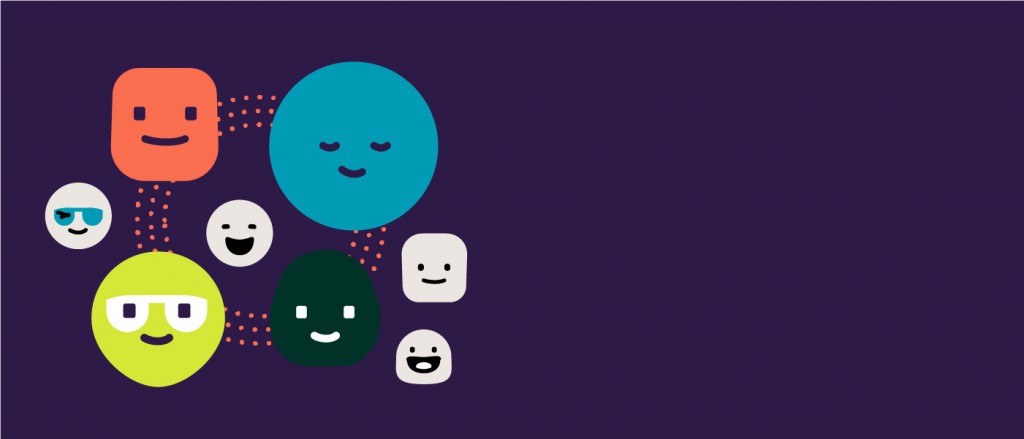 Social Responsibility
Our employees are service-minded, have a high level of well-being and are proud to work for Teosto. They work to produce high-quality solutions for the needs of our members and customers. Understanding our members and customers as well as serving them actively and professionally are at the core of our duties. Our reputation is built on the efforts of all our employees and the quality of our customer service.
Teosto carries responsibility for both its rightsholder members (composers, lyricists, arrangers and music publishers) and its staff.
The goal of our promotion of interests activities is that music authors are taken into account in unemployment benefit and social security matters in a way that makes them equal to those who work in other fields. In 2021, our advocacy goals were related in particular to sharing information with decision-makers about artists' loss of earnings due to the COVID-19 pandemic, and the related artists' unemployment benefit matters.
For staff, Teosto's employer promise explains what they can expect from their workplace. We encourage all of our employees to maintain their competence and offer them opportunities for continuous self-development. The supervisor and the employee work together to define the goals of the work and make progress towards them. Clear responsibilities, ensuring well-being at work and a culture that emphasises cooperation and openness support us in reaching our goals. An important part of Teosto's HR management is its cooperation group, which had six meetings in 2021.
In 2021, we employed an average of 67 people  (2020: 70 people).  Most of our employees are permanent and full-time employees.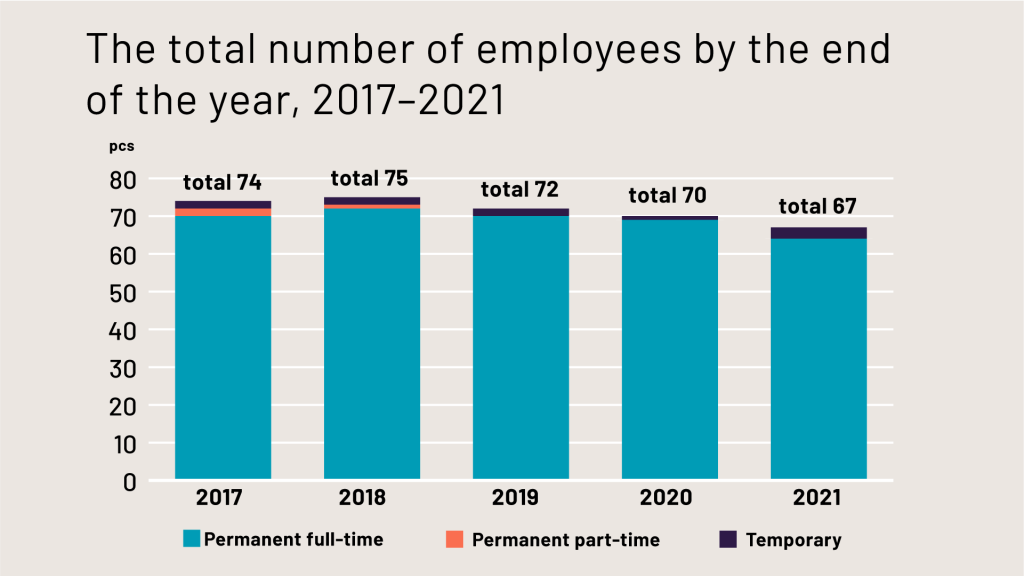 Our employees enjoy working for us: the average length of employment is 13.7 years. More than half (52.2%) of our employees have worked for Teosto for more than 10 years. However, there has also been some employee turnover in recent years: a little more than a third (35.8%) of employees have worked for Teosto for less than five years.
As an employer, we promote equality with a goal-oriented and systematic approach. The responsibility for complying with the Equality Act lies with the employer, but the whole work community is responsible for behaving in ways that promote equality.
In Teosto's equality plan, we have recorded principles to promote equality as well as measures to guarantee everyone a safe work environment that is free of discrimination. The achievement of equality is monitored by the cooperation group, which assesses the situation annually. We are also part of the Yhdenvertainen musiikkiala ("Non-discriminatory music industry") project and are committed to its principles (see yhdenvertainenmusiikkiala.com/in-english).
Teosto's gender distribution is quite even. In 2021, 41.8% (42.9% in 2020) of Teosto's employees were male and 58.2% (57.1% in 2020) were female. Three out of nine management team members and two out of six board members were female. The largest age group was 55–59-year-olds. The average age of all Teosto employees in 2021 was 50.3 years (2020: 49.9 years).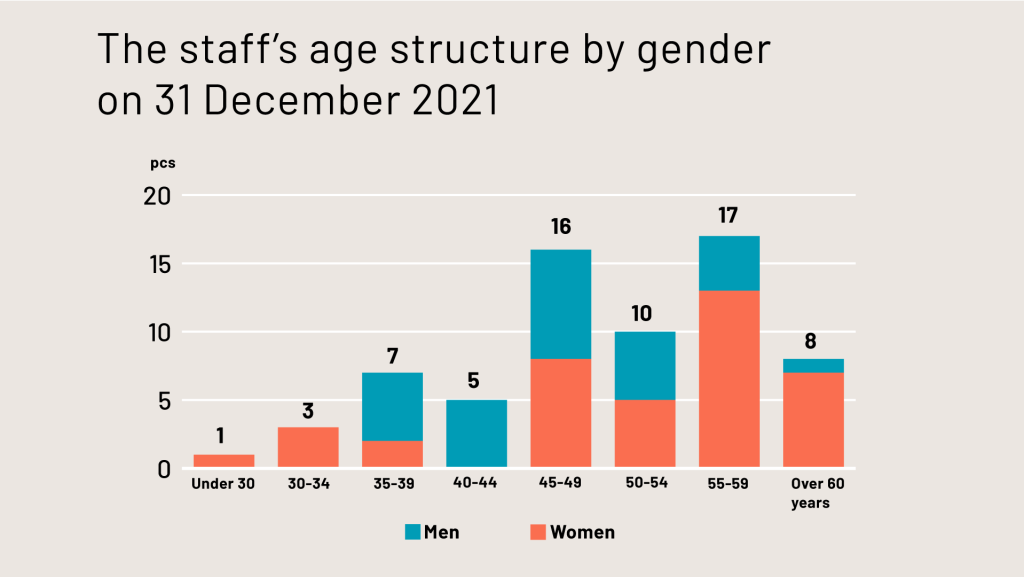 In May 2021, we built a hybrid work model for Teosto. The model's vision is to make remote and in-person work equal, and the model is based on trust. According to the model, each employee may assess where they are best able to do their day's work and reach their goals, allowing them to decide independently where they want to work.
The model offers plenty of freedom but also guidelines regarding situations where employees should come to the office to work. The hybrid work model is currently being piloted and we will collect development needs related to it after the pilot phase has ended (estimate May 2022). Finding a good balance between in-person and remote work is essential in order to get the best of both.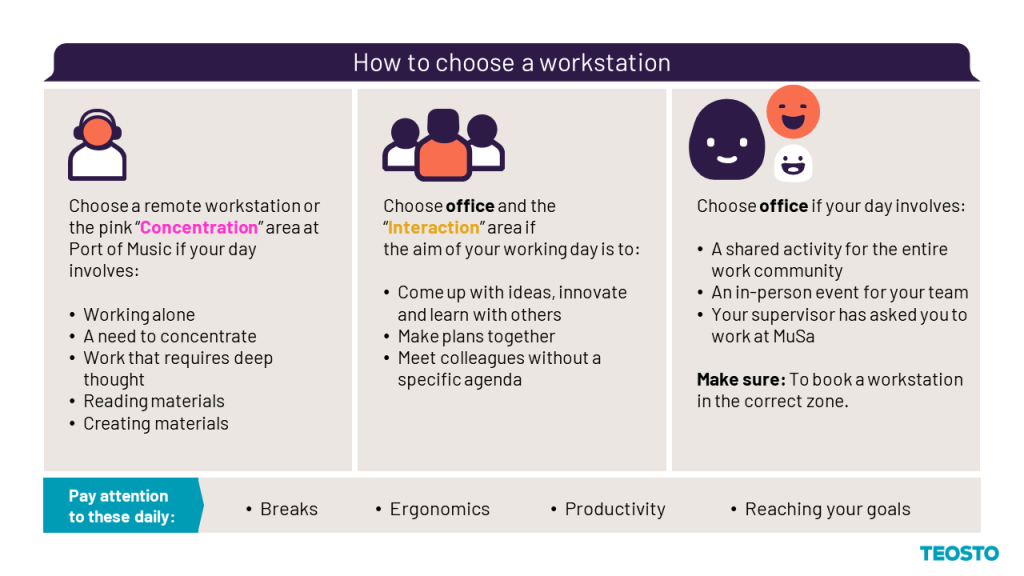 Teosto promotes its staff's well-being at work and work ability with a long-term and systematic approach. We are assisted in this work by our occupational health partner Mehiläinen and the pension insurance company Ilmarinen. We offer our staff a wide range of occupational health care services and create a well-being at work plan annually.  Our employees' own actions to take care of their well-being are also supported by our active employees' club and the vouchers offered as fringe benefits, which the employee can use for exercising, culture, a massage or a business trip.
The most important goal of our well-being at work activities is to maintain the good current state. We maintain the current state by carrying out proactive and preventive work ability activities, promoting open dialogue and systematically developing leadership and supervisory work. In 2021, the biggest challenges to well-being at work were posed by the prolonged remote work recommendation resulting from the COVID-19 pandemic, even though we had already got used to it in 2020. We are still striving to minimise the negative effects of remote work by taking various measures, such as lending equipment that improves ergonomics (e.g. screens and office chairs) to home offices, sharing more information about the various services and forms of support offered by our occupational health care provider and supporting supervisory work and community spirit with the available digital means.
We measure our staff's well-being and productivity with the Quality of Work Life (QWL) index. We started using the QWL survey, which was developed in Finland, in autumn 2021. In the survey, our employees respond to 15 questions and use them to assess how the quality of work life shows up in leadership, supervisory work, organisational culture, competence and processes. At the same time, our staff may offer suggestions for development for each thing they notice. The artificial intelligence included in the survey will calculate the risk of incapacity for work, turnover, sickness absence and burnout on the basis of the responses.
Our first QWL was at a good level at 76.5%. The average is 60% for Finnish organisations and 58.2% for the state.
Our other well-being at work indicators are the number of sickness absence days as well as the number of disability pension decisions, occupational accidents and early support discussions. In 2021, the number of sickness absence days was 5.8/employee. In 2020, the number was 3.9. There were no disability pension cases in 2021. During the year, we recorded one occupational accident, which happened while the employee was working remotely.
When it comes to leadership, our goal is to guide our actions towards a desirable culture and values as well as to help and motivate people on their own journey towards acting in line with their values. The principles of our supervisory work have been recorded in Esimiestyön käsikirja ("The Handbook of Supervisory Work"), which was authored by the supervisors themselves. Our Code of Conduct for supervisory work was also created by the supervisors. We regularly discussed key areas of supervisory work in training meetings for supervisors. The following six rules are clearly present in our everyday work and we measure how they are followed annually using a 360-degree supervisor feedback survey.
Encounter others – see, listen, be present
Trust others
Enable others to reach their potential
Don't be afraid to speak up and intervene
Build a "we" spirit across group boundaries
Set clear goals together with others
The results of the 360-degree supervisor feedback survey showed that Teosto employees think their supervisors are not afraid to speak up and intervene, have genuine encounters with others, are present and enable others to reach their potential. For these areas, our supervisors received a score that was well over 4 on a scale of 1 to 5. The other three areas also received a score close to 4, which means that, according to the survey, team members are happy with the work of their supervisors.
In 2021, we also received new data about leadership and supervisory work through the QWL survey.  According to the results, our employees found the quality of supervisory work to be very good (index 84%) and the quality of leadership to be good (index 73%). Each team took development measures in selected areas on the basis of the results.
Genuine communication with employees is important at Teosto, and we use three different shared dialogues. The goals discussion is a discussion between the supervisor and the subordinate about goals and performance. The optional performance appraisal is an an optional discussion with HR that focuses on the employee's personal development, such as their competence and their career and training wishes. In addition to these, HR holds an HR 1-2-1 discussion focused especially on supporting well-being at work with each employee once a year. In 2021, we held discussions with all of our employees in line with our goals.
At Teosto, we support our employees' development with a wide range of competence development activities. We completed the Teosto-Akatemia training programme, which started in 2019, and nearly 40 Teosto employees gained an official Finnish specialist vocational qualification. Our employees gained qualifications in areas such as leadership and management, business and product development. In addition to Teosto-Akatemia, we also used training and development plans discussed during performance appraisals to support individual development.
In 2021, we tracked the reaching of goals quarterly through 1-2-1 discussions.
READ MORE: