Five works nominated for the Teosto Prize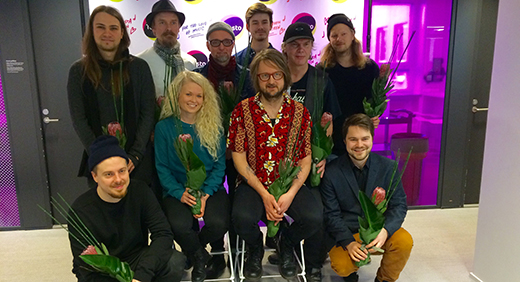 16.02.2016
This year, the pre-selection jury has selected five works or pieces as nominees for the Teosto Prize. Awarded since 2003, the Teosto Prize is one of the most noteworthy art prizes in the Nordic countries. In 2015, the Teosto Prize was awarded to Mikko Hassinen for his works on the album Elektro GT.
"Candidates included versatile works that we approached as music, without giving thought to genres," explains Pekka Kuusisto, the chairperson of the pre-selection jury that selected the nominees.
"During the selection process, all jurors got a clear impression of Finnish music being in a good state, and we are happy that the Teosto Prize is not awarded for success in sales but for artistic credit. The Teosto Prize celebrates the fact that a million people can be wrong," Kuusisto continues.
The Teosto Prize nominees and their justifications:
Pekko Käppi & K:H:H:L: Sanguis Meus, Mama!
Pekko Käppi's, Nuutti Vapaavuori's and Tommi Laine's compositions and lyrics, and arrangements by the Pekko Käppi & K.H.H.L band and Jani Viitanen on the album Sanguis Meus, Mama!
Laura Moisio: Ikuinen valo
Laura Moisio's compositions, lyrics and arrangements and Jarno Takkumäki's composition and arrangements on the album Ikuinen valo.
Paperi T: Malarian pelko
Henri Pulkkinen's lyrics, and compositions and arrangements by Henri Pulkkinen, Niko Liinanmaa, Miska Soini, Roope Kinnunen, Kristo Laanti, Sandra Tervonen and Juuso Malin on Paperi T's album Malarian pelko.
Verneri Pohjola: Bullhorn
Verneri Pohjola's compositions on the album Bullhorn.
Antti Auvinen: Autuus
Antti Auvinen's composition and Harry Salmenniemi's libretto in the chamber opera Autuus.
The Teosto Prize is awarded to courageous, original and innovative works
Music authors and publishers reward courageous, original and innovative Finnish music with the Teosto Prize. This year, the prize will be awarded for the 13th time.
The prize will be awarded to 1–4 musical works or pieces, and the maximum prize sum is EUR 40,000. If the prize is awarded for a sole musical work or piece, the prize sum is EUR 25,000. The works can represent any genre, but they must be produced after the previous award season.
This year the nominees were selected by a pre-selection jury consisting of composer Pekka Kuusisto (the pre-selection jury's chairperson), editor Mikko Meriläinen, journalist Kare Eskola, music author Vilma Timonen, journalist Susanna Vainiola, journalist Tove Djupsjöbacka and journalist Jaani Länsiö.
The final prize winner is selected among the nominees by a three-person jury consisting of Minister of Education and Culture Sanni Grahn-Laasonen (the jury's chairperson), Nelonen Media's radio director Sami Tenkanen and Mikko Hassinen, the composer of the piece that won the Teosto Prize last year. The decision will be announced at the event held in the restaurant of the Helsinki Music Centre on 14 April.