Polaris Nordic Music Survey: Streaming music is mainstream in the Nordics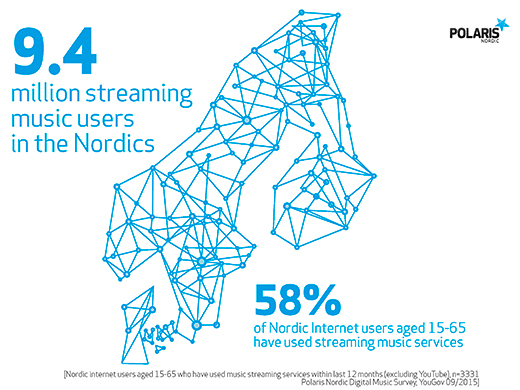 24.02.2016
Music streaming services represent the mainstream for music consumption in Finland, Denmark, Norway and Sweden: 9.4 million Nordic consumers streamed music in 2015.
This is evident from the Polaris Nordic Digital Music Survey 2015, which was commissioned by three collecting societies Teosto (FIN), Koda (DK) and Tono (N). Polaris Nordic Digital Music Survey 2015 infographs (pdf).
Streaming services are a big hit
Alltogether 58% of Nordic respondents aged 15 to 65 (an estimated 9.4 million) say they have consumed music content within the previous twelve months from one or more music streaming services, such as Spotify, Apple Music, Tidal/Wimp or TDC/YouSeePlay. Looking at all online music sources, Spotify, YouTube and Apple iTunes are the top three music destinations for Nordic consumers.
Consumers are willing to pay for digital music
The survey shows that a steady number of Nordic Internet consumers also pay for their online use of music. In 2015 a total of 23% of respondents aged 15 to 65 stated they had paid for their digital use of music within the last year (e.g. as downloads or via streaming services).
64% of all respondents also agree or strongly agree that music creators should be paid when their music is played on online services.
Radio still number one source for finding new music
Radio remains the most often cited source for new music discovery in all four countries, followed by YouTube and dedicated music streaming services. 40% of Nordic respondents selected "I heard it on the radio" when prompted for the source of discovery for the latest new track found to be good. At the same time, also the role of music streaming services for music discovery seems to increase as the number of streaming music users keeps rising.
For young respondents the role of friends, social media and music streaming services was higher for music discovery, even though the role of radio remained considerable. They were also more likely to share music, music videos and playlists, and listen to shared or curated playlists on music streaming services.
About the Polaris Nordic Digital Music Survey 2015
The Polaris Nordic Digital Music survey was carried out in Denmark, Norway, Finland and Sweden in September 2015. The survey, which was was conducted by YouGov, was targeted at Internet users aged 12 to 65 and attracted a total of 3,200 online respondents (800 per country). The survey was commissioned by the three Nordic collecting societies Koda (Denmark), TEOSTO (Finland) and Tono (Norway), who formed the Polaris Nordic Alliance in 2013. The survey is the second of its kind; the first was carried out in 2014.
For more information or to set up an interview, please contact:
Teosto
Ano Sirppiniemi, head of research
ano.sirppiniemi@teosto.fi
tel. +358 50 325 6530
Koda
Mads Scheuer, press officer
msc@koda.dk
tel. +45 3122 4806
Tono
Willy Martinsen, head of communications
willy.martinsen@tono.no
tel. +47 909 65 254