Pop and rap: Pupils make their own songs as part of Teosto's school project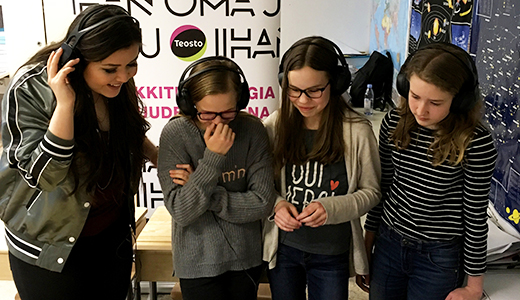 05.04.2017
Pupils at Rastaala school in Espoo created a wide range of compositions in a joint project between the Finnish Composers' Copyright Society Teosto and the Finnish company Triplefist Music. Mentoring the pupils was singer-songwriter Diandra. Making the songs caused some nerves at first, but the pupils soon became enthusiastic about experimenting and bringing out their own thoughts and ideas through music.
The project, called Ihan oma Juttu ("Completely My Own Thing"), ended with a celebration today at Rastaala school in Espoo. The final concert will consist of the premiere performances of the students' own compositions. The songs were created over a two-month period as part of the Teosto and Triplefist Music school project.
A total of 26 students from Raastala joined in the project, and many of them had no previous experience of a music hobby or of playing musical instruments.
Popstar Diandra, who was mentoring the students, says she was very keen to be part of the project.
"It was nice when the young people figured out new things in music, and after the initial tension they developed their ideas in a relaxed atmosphere. In these kinds of activities everyone can join in, creating things together. And with one group of boys we even rapped in the school store, with a great vibe and a summertime rap they came up with themselves. If only there had been similar projects during my school years," Diandra enthuses.
Digital technology opens up new possibilities for music lessons
The school concept offers music technology skills and encourages creative music-making in schools. The concept is based on the goals of the Minister of Education and Culture for renewing learning environments, and gives children and youth better opportunities to participate in the arts and culture. As part of the project, students compose music, write lyrics, and produce their own songs from start to finish.
"Ihan oma juttu has been a true basic course in music-making for the sixth-graders, and also for me personally. It's good that students are encouraged to be creative, and to experiment. At this self-critical stage of their lives, it is not necessarily easy for young people to express their feelings," says Niko Lehtonen, a teacher at Rastaala primary school.
"In our school, there were as many different kinds of songs created as there were songwriting groups. One group produced a song called Happy, and another came up with Chaos Blast. The songs ranged in genre from acoustic pop to experimental electronic music."
Lehtonen notes that digital learning environments provide new opportunities for teachers also to develop their skills. In addition, music supports other learning and young people's wellbeing in general.
Teosto's partner in the project was Triplefist Music, which also developed the concept. Triplefist Music's composer and producer team consists of Janne Hiedanniemi, Tuomas Hiedanniemi, and Kari Saarilahti.
"We want to bring music-making to everyone equally, regardless of the starting level. During the project some of the students also put some of their free time into exploring the possibilities brought about by technology, such as sampling. For others, it was most important to create a story for the song. Each student got to make their own voice heard, and had an opportunity to find new forms of self-expression for themselves," says Janne Hiedanniemi.
For Teosto's head of public and international affairs, Riikka Railimo, the Ihan oma juttu concept has many important aspects.
"Composing is a creative endeavour, and I hope that the project has encouraged students to experience the joy of discovery, innovation, and teamwork. Experimenting with composing and the teaching also act as a breeding ground for future professional composers, and for interesting new music. We also want to support schools and teachers in adopting the new curriculum, and in making good use of digital learning environments," Railimo says.
Exploring the export potential of the teaching concept
Teosto is currently investigating the international export potential of the Ihan oma juttu concept. Exports would also make it possible in the future to apply the Finnish concept, which makes use of digital technology, in France and other countries.
Present at the school concert in Rastaala was Claire Giraudin, director of Sacem Université at Sacem. Giraudin specialises in copyright matters. Sacem is running its own educational project, which brings music-making and knowledge of copyright matters to French classrooms.
Teosto is mapping out the opportunities for export of educational expertise at the EU level. Teosto's partners in these exploratory efforts are Sacem in Paris, the Sibelius Academy in Helsinki, and the University Pompeu Fabra in Barcelona. Teosto is also involved in these investigations in its capacity as a member of the European Commission's Digital skills and jobs coalition.
Teosto is also running a school project of its own as part of the official Suomi Finland 100 jubilee programme celebrating Finland's independence.
Further information:
Riikka Railimo, Head of Public and International Affairs at Teosto, +358 40 504 35 21, riikka.railimo@teosto.fi
Kari Saarilahti, Ihan oma juttu team, +358 40 595 3361 kari@ihanomajuttu.fi
Janne Hiedanniemi, Ihan oma juttu team, +358 50 918 1132, janne@ihanomajuttu.fi