The Teosto Prize goes to the works of Yona, Linda Fredriksson, Cecilia Damström and Eevil Stöö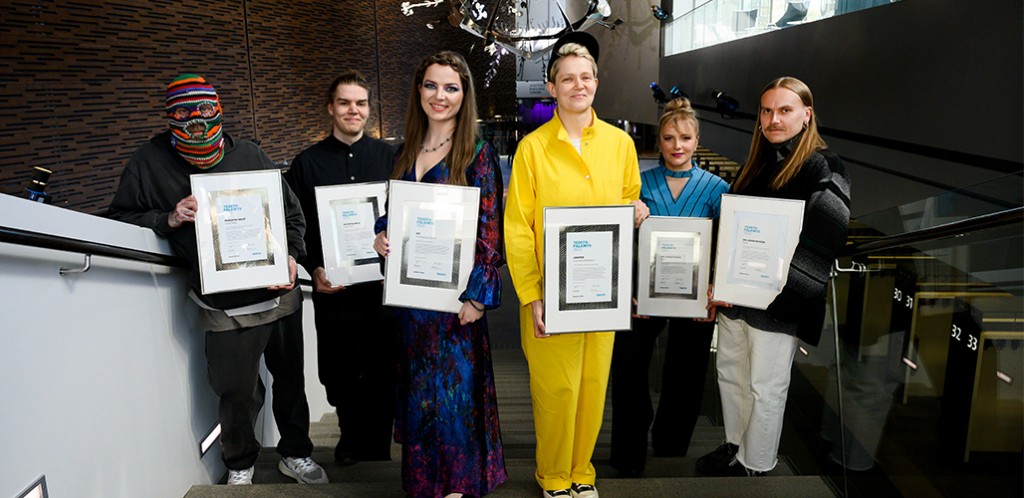 19.05.2022
The 2022 Teosto Prize is awarded to four works of music. The total value of the prize is the highest ever – EUR 60,000 – and it will be divided equally among the winning works.
The winners are Johanna Rasmus and team's works on Yona's album Uni johon herään, Cecilia Damström's composition ICE, Linda Fredriksson's compositions on the album Juniper and Eevil Stöö and team's works on Eevil Stöö's album Marsipan Wave. Each work and its author or group of authors will be awarded EUR 15,000.
The 12 nominees and four winners of this year's Teosto Prize were exceptionally selected from Finnish works of music published or premiered in 2020–21, i.e. over two years.
The winners of the Teosto Prize were chosen by a four-member jury consisting of the 2020 Teosto Prize winners, artist Jesse Markin and composer and producer Totte Rautiainen, as well as members invited by Teosto's management team, Rector of the University of the Arts Helsinki Kaarlo Hildén and journalist Maria Veitola.
"This year's nominees and winners represent many different genres, which is a wonderful thing. It shows how diverse and expressive the music offered by the Finnish music industry currently is," says Totte Rautiainen, Chair of the jury.
The winners were announced at an event for invited guests at the restaurant of Helsinki Music Centre on 19 May.
Rationale behind the winner selection
Johanna Rasmus and team's works on Yona's album Uni johon herään
Uni johon herään is an especially atmospheric work that has required a strong vision, boldness and creative madness from its authors. The powerful story is conveyed to the listener through exceptionally confessional and naked lyrics. Yona's sensitivity, soulfulness, passion and artistry blossom in unprecedented ways with the Tapiola Sinfonietta symphony orchestra: both communicate and intertwine with each other in a phenomenal way. The end result is a breathtakingly powerful and cinematic whole.
Linda Fredriksson's compositions on the album Juniper
The intense Juniper takes it listeners to the heart of what it means to be human. The compositions on Linda Fredriksson's debut album are delicately lingering, personal and tentative, distancing themselves from jazz and most of the genre's typical features in an original way. Playing the saxophone is traditionally a masculine pursuit, but on Juniper Fredriksson deconstructs everything she has learnt and approaches the instrument and the genre of jazz with a clean slate and through her own persona. The compositions flow naturally in a sensitive, fragile and inquisitive way, while skilfully maintaining coherence as the soundscape and spaces change from piece to piece.
Cecilia Damström's composition ICE
ICE creates cinematic, powerful and threatening images that flow as the orchestra's strong expressions convey the events with the certainty of a force of nature. The symphony orchestra's various instrument groups form large and uniform masses of sound that churn and hiss until fading into the skyward sounds of a harp. Even though the work is a strong statement on climate change and forms a whole with an ice sculpture designed by the architect Erkko Aarti, the composition can also stand on its own as a powerful work of music.
Eevil Stöö and team's lyrics and compositions for Eevil Stöö's album Marsipan Wave
Eevil Stöö and team have managed to create a unique universe that avoids uptightness and where extremes can meet easily. The work moves along in a relaxed and easy-going way, offering joy and many bursts of laughter to the listener. The album shows what the Finnish language is capable of while the warm-hearted compositions and backing gently leave room for exceptional wordsmithing. The lyrics along with their references offer lots to look into for many listens, providing as rich an experience to both those familiar with the hip-hop tradition and ordinary listeners.
12 works of music nominated
In addition to the winners, the nominees included:
Minna Leinonen's composition for the kinetic opera ALMA!
Ville Aalto's compositions on the album Avian Electronics
Adina Dumitrescu's composition I smiled to the bird on Jupiter
Rasmus Soini's compositions on Sointi Jazz Orchestra's album Kolibri
Sanna Klemetti's lyrics as well as Sanna Klemetti and Pekka Tuomi's compositions and arrangements on Litku Klemetti's album Kukkia muovipussissa
Liisa Tani's compositions and lyrics on Sir Liselot's album Maniduros
Sami Hynninen's compositions and lyrics on Opium Warlords's album Nembutal
Laura Naukkarinen and Matti Bye's compositions and arrangements and Janne Laine's works on Lau Nau's soundtrack album Själö
The nominees were selected by a preliminary selection panel consisting of music journalist and non-fiction writer Mervi Vuorela (Chair), journalist and radio host Antti Granlund, music journalist Lotta Emanuelsson, music researcher and music journalist Mikael Mattila, journalist Katri Kallionpää, DJ and journalist Tytti Viljanen and musicologist, Associate Professor and PhD Susanna Välimäki.
The Teosto Prize is awarded to bold, original and innovative works of music
The purpose of the Teosto Prize is to annually recognise bold, original and innovative works of music or collections of works. With the prize, Teosto also wants to support the diversity of genres and increase appreciation for the work of music authors in society. Awarded since 2003, the Teosto Prize is one of the most noteworthy art prizes in the Nordic countries. It is now being awarded for the 17th time.
Following a rule change, the prize was awarded to 2–4 works or collections of works this year (normally it would be awarded to 1–4 works). The works may represent any genre.
Further information and requests for interviews
Johanna Laitinen, Communications Manager
Finnish Composers' Copyright Society Teosto
johanna.laitinen@teosto.fi
tel. +358 (0)40 192 1900
Sending interview requests to the winners after the announcement of winners
Yona:
Satu Snellman
Universal Music Finland
tel. +358 (0)40 508 8190
satu.snellman@umusic.com
Cecilia Damström:
Milla Palovaara
Kulttuuritoimisto Palovaara & Ruusila Oy
+358 (0)40 596 7973
milla@kulttuuritoimisto.fi
Linda Fredriksson:
Roope Pokki
We Jazz
tel. +358 (0)50 525 8174
roope@wejazz.fi