Year 2021: Looking into the future in spite of the pandemic
CEO Risto Salminen
Over the past two years, our society has been turned upside down by the COVID-19 pandemic in a way that no one could have anticipated. In addition, our sense of safety has been irreversibly changed by the tense international political situation that escalated into Russia's military aggression against Ukraine this spring.
For Teosto's rightsholders, 2021 was a year of mixed feelings. Due to pandemic-related restrictions and lockdowns, most concerts and festival performances were banned. However, people had a yearning for music, which was reflected in an increased use of music in media. Listening to music online increased particularly strongly.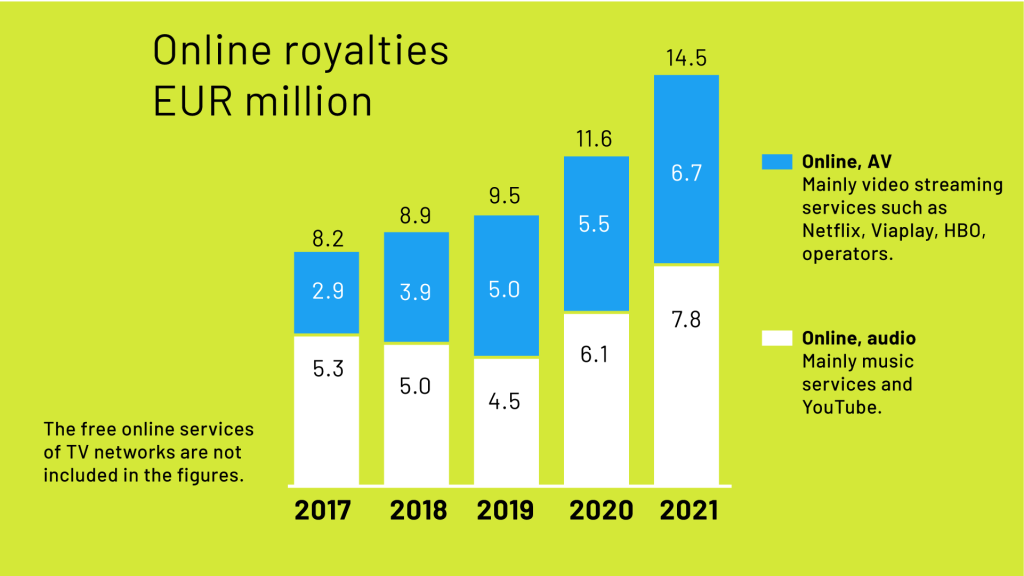 We at Teosto focused on the efficient collection of royalties and invested strongly in both the promotion of future development projects and the supervision of the interests of composers, lyricists, arrangers, and publishers of music. We succesfully increased remuneration by 7.4% from last year. At the same time, our operating costs went down by 4.2%.
Goal-driven development of operations
We continued to update Teosto's web service, aiming for even better web usability and technological continuity. We also prepared a reporting and distribution system update project, which we intend to launch in 2022.
In March 2021, we moved to the Port of Music, under the same roof with Gramex, GT Music Licences Ltd, and six other music industry organisations. In 2021, we started updating the strategy of Teosto. The strategy process was concluded in spring 2022, giving us an updated vision and targets until 2025.
Our updated vision is: We increase the cultural and commercial importance of music.
In line with this vision, we will highlight the diversity of music and Teosto's role as a cultural operator more actively in our cooperative efforts with the users of music.
The coronavirus pandemic highlighted the importance of advocacy in the music industry
As regards advocacy and supervision of interests, 2021 may go down in history due to the number of activities we had. We performed dozens of measures in connection to COVID-19-related financial support, creative professionals' unemployment security, compensations for private copying, and the national preparation of the Copyright Directive.
The General Meeting of May 2021 decided to pay EUR 3 million in pandemic-related financial support to mitigate the negative effects of the pandemic, which is a display of the Teosto community's capability to support music authors and publishers through difficult times and give them hope for the future. All in all, we have paid EUR 4.5 million in COVID-19-related financial support out of Teosto's funds for cultural contributions.
We hope that the pandemic-related restrictions are now a thing of the past, and that musicians can finally play music to people who crave culture and experiences. Even though new uncertainties have emerged, the dynamic Finnish music industry helps secure our resilience as a society. Creative musical art is the primary production stage of music. Improving the working conditions of composers, lyricists, and music publishers is our crystal clear basic task.