Year 2022: a historic year in terms of results
CEO Risto Salminen
The year 2022 was one of rapid recovery for the music market. Even though early 2022 was affected by COVID-19 restrictions, the royalties collected by Teosto exceeded EUR 80 million for the first time in Teosto's history – the total amount increased by 15.1% to EUR 80.7 million (2021: EUR 70.1 million).
Of the total amount, the share of royalties collected directly by Teosto increased to a record high of EUR 72.8 million (2021: EUR 62.3 million). The royalties collected via our diverse and efficient network of partners and the total amount of lending compensation and private copying compensation added up to EUR 7.9 million. The expense percentage of Teosto's operations fell from last year's 13.7% to a record low of 12.6%.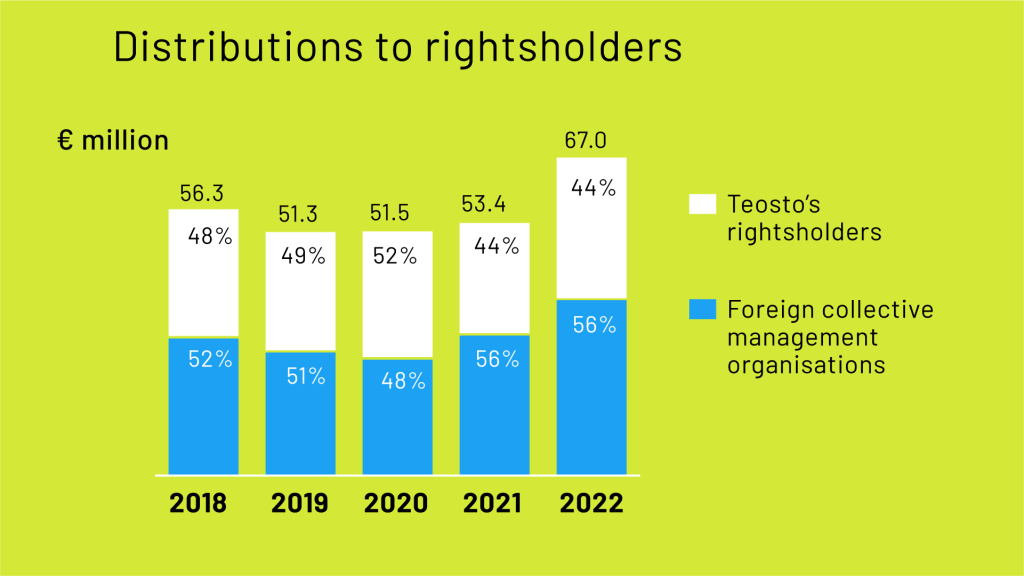 Teosto's most important mission is to benefit professional music authors. We did very well with this mission: thanks to the large amount of royalties collected, the total distribution to Teosto's author and publisher members increased by 16%, setting a new record of EUR 70.3 million. (2021: EUR 60.8 million).
Teosto's strategy until 2025
In accordance with our vision, which was updated in spring 2022, we increase the cultural and commercial importance of music. The new strategy is based on five objectives, two of which are strategic enablers.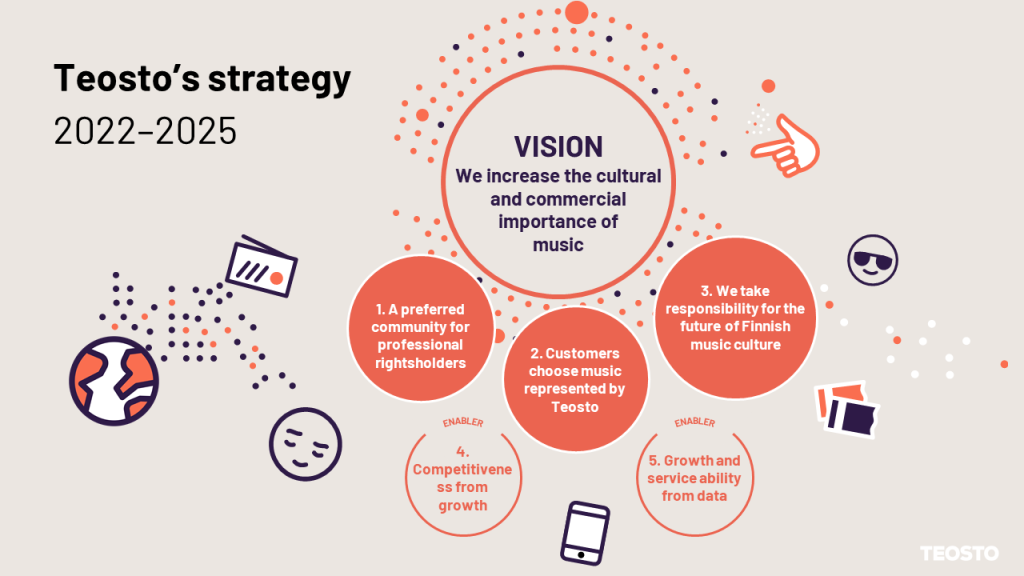 Teosto's digitalisation journey continues
A key part of our strategy is building high-quality and modern digital services. In 2022, we continued digitalising our services and processes in order to be able to offer high-quality tools for dealing with matters and improving the customer experience.
Once completed, the project to overhaul our distribution and reporting systems, which started in autumn 2022, will ensure the continuity of our core functions and meet the needs of the digital environment of the future. The overhaul, which we have been preparing for since 2018, will be carried out over the next 2–3 years in cooperation with our supplier, the Irish company Spanish Point Technologies Ltd.
The project stage of the Teosto web service overhaul, which began in 2018, was completed in late autumn, after which we started overhauling the music publishers' web service. We also carried out several smaller digitalisation projects.
Towards the parliamentary elections – culture has a future
Political decision-making and lawmaking set the framework for the development of the operating environment for creative industries. In 2022, we did advocacy work with a focus on the parliamentary elections and our goals for the government programme together with our member organisations the Finnish Music Creators' Association, the Society of Finnish Composers and the Finnish Music Publishers Association. The results of this cooperation can be assessed by comparing them to the government programme that is eventually made.
We want to be a community that professional music authors and publishers continue to trust, and we also want businesses and organisations to keep using the music we represent. Teosto, which had its 95th anniversary this year, is more active and develops its services more than ever before in accordance with its mission – to ensure the success of professional music authors.