Teosto collected EUR 65.6 million in royalties for the use of music in 2020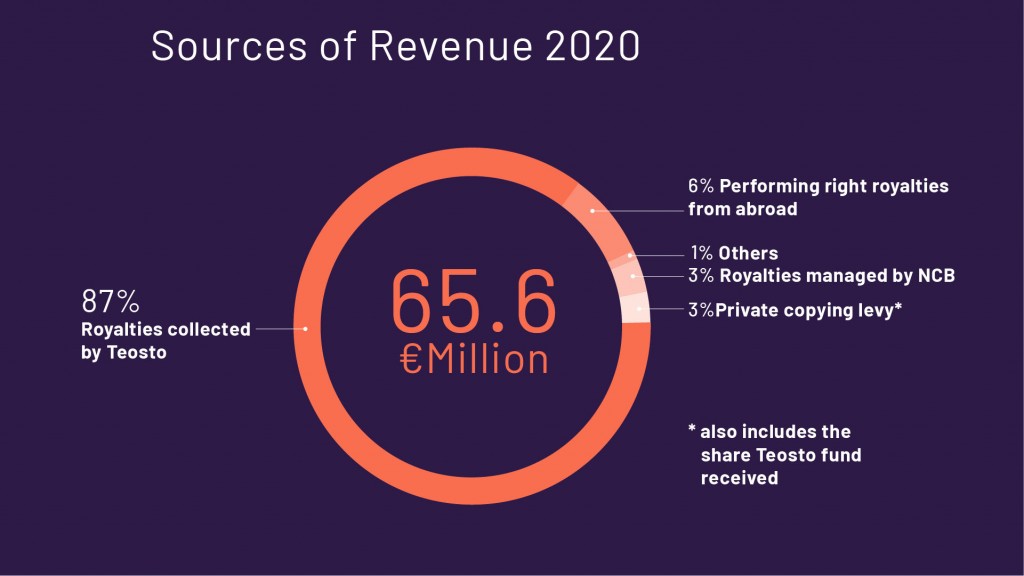 14.05.2021
Teosto collected EUR 65.6 million in royalties for composers, lyricists, arrangers and music publishers in 2020. The amount includes royalties collected by Teosto and other collective management organisations as well as compensation for lending and private copying. The global COVID-19 pandemic caused a significant decline, approximately 9.1%, in Teosto's remuneration.
Concerts were the category in which royalties distributed by Teosto declined the most due to COVID-19: last year, royalties in this category amounted to only EUR 850,000, compared to EUR 5.2 million in 2019. Royalties in the concert category decreased by approximately 84 per cent.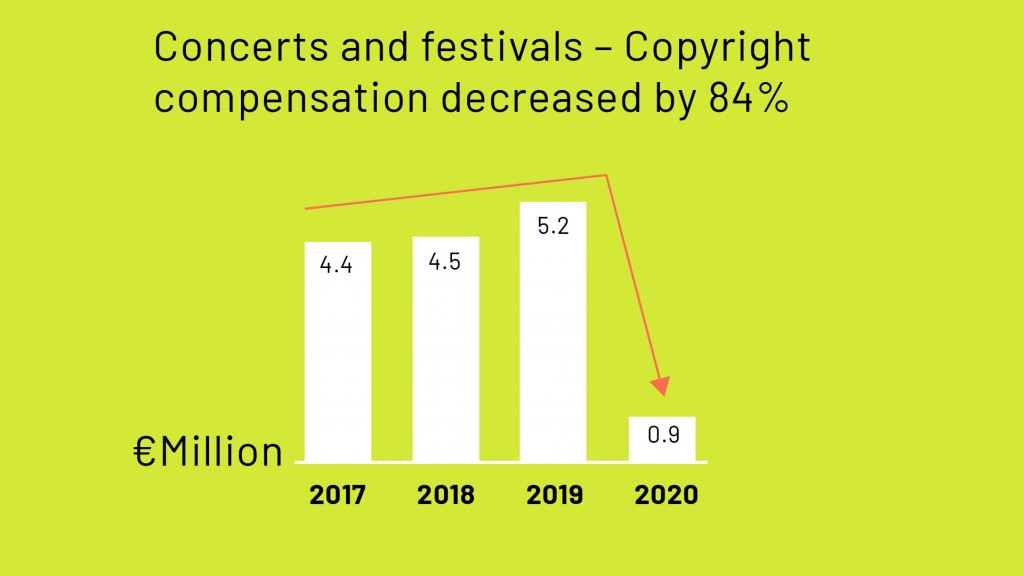 Online services represented the largest source of growth with an increase of 22 per cent. Teosto collected EUR 11.6 million in royalties for the use of music in online services. The growth in royalties was largely due to music services such as Spotify, and video on demand services such as Netflix and HBO.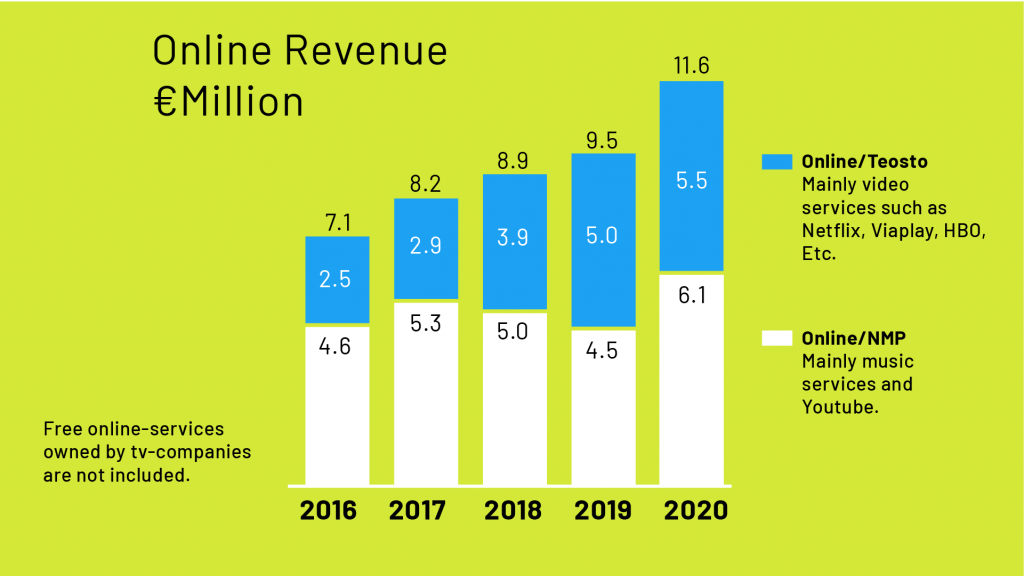 Radio and TV were the most significant sources of revenue
Revenue related to commercial TV and radio and background music also decreased significantly compared to the previous year. In spite of the changes that have shaken up the industry, radio and TV continue to be the most important sources of revenue for music authors and publishers. Last year, 55 per cent of the royalties collected by Teosto came from music played on the radio and TV.
According to foreign royalties paid by Teosto, Finnish music is most frequently played abroad in Germany and Sweden. Performing right royalties collected by Teosto from abroad grew by 13 per cent and amounted to EUR 3.8 million. The impacts of the COVID-19 pandemic are expected to be reflected in international revenue in 2021.
The impacts of COVID-19 are continuing in 2021
Teosto distributed EUR 51.5 million based on the royalties it collected last year. Of this amount, EUR 26.6 million was distributed to Finnish composers, music authors and publishers, and EUR 24.9 million was distributed to composers, music authors and publishers abroad. The amount was higher than in 2019 because the impacts of the pandemic extend to 2021 due to the payment and revenue generation models involved in royalties.
The circumstances created by COVID-19 also forced Teosto to evaluate the costs and structures of its operations. For example, during the latter part of the year, Teosto carried out statutory cooperation negotiations concerning all of its personnel. Teosto reduced its operating expenses by 9.6 per cent in 2020. Teosto's cost percentage was 15.6 per cent.
Cost savings are also derived from Teosto relocating from Helsinki to new premises in Keilaniemi, Espoo. Several other music industry organisations moved to the same address in spring 2021. This proximity provides improved opportunities for developing cooperation.
COVID-19 financial support for Teosto's rightsholders
In December, Teosto distributed COVID-19 financial support to its customers – including composers, lyricists, arrangers and music publishers – to mitigate the financial impacts of the pandemic. The total amount of COVID-19 financial support granted was EUR 542,500. COVID-19 financial support will also be distributed in 2021.
Read more:
Teosto's annual report, transparency report and financial statements